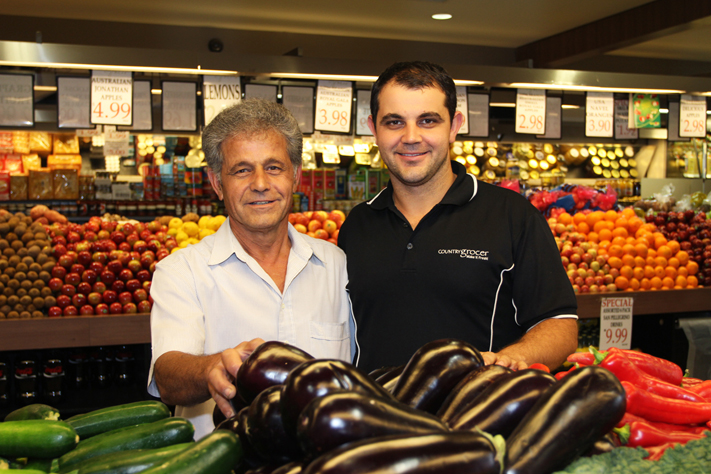 Behind every successful business there is inevitably a great story or myth, and Unanderra's hugely popular Country Grocer is no exception.
After migrating in 1965 from Astypalea, a beautiful tiny Greek island with a population of only 1,334 residents, a young Ross Kambouris (left above with son Dimo) discovered the Illawarra and quickly secured a job as a bread vendor in the region he would come to love and call his second home.
It was not long before the new arrival, with an eye to securing his future, had spotted his first opportunity in this country and started selling fruit as a sideline while he delivered his oven fresh loaves to suburban housewives all around Wollongong.
This first brush with retail encouraged the young Ross greatly and the budding entrepreneur was soon selling a wide range of fresh fruit and vegetables, supplied from a number of locally based (often migrant) market gardeners, from a stall at the side of the road.
Ross embraced self-employment with gusto and started to build the fledgling business up gradually. Investing any surplus cash into the venture, securing the freshest produce he could locate and selling direct to housewives at the lowest possible prices, within 10 years he had completely outgrown the stall and in 1975 he took a major step and opened the Fruit Market at Westfield Figtree – his first real retail shop front.
Country Garden, commencing in Warrawong in 1988, was to be Ross's next big move and the first 'branded' market traded at this location right through till 2005.
The final evolution to the 'gourmet shopping experience', many WOL readers will know today, and the transition from Country Garden to Country Grocer, occurred when the business moved to its present location in Unanderra – right opposite the then to be constructed new Woolworths supermarket. Dimo explains the Gourmet Shopping concept Ross and he have developed – see video below:
The Innovators of Gourmet Shopping

WOL: What do you think is behind the success of the Country Grocer?
RK: There are a number of lessons I have learned over the years which probably apply to all businesses.
WOL: Well, what's the most important lesson?
RK: If I had to name a single factor it would be that you have to get your costs under control – because the marketplace largely establishes what you can charge your clients and potential customers – not you.
WOL: What parts of a business like the Country Grocer can actually be managed for cost savings?
RK: In our business all our competitors get their supplies from the same markets as we do – so there is no potential to make excessive margins or windfalls.
Also, labour cost are approximately the same for all operators – same awards etc, so we have to use as many casuals as possible to handle the busy periods.
There are in fact only two areas that Dimo and I can manage that have any real impact on how we trade.
One is ownership or rental payments. There's no point in paying all your profits to a landlord. We all have to start as renters but the sooner you can control the rent you pay or buy your own property the better.
The second is how to differentiate your business from the opposition. The Country Grocer is only a stone's throw from one of Australia's most successful retailers which means no-one has to visit our much smaller store.
WOL: Doesn't Woolworths actually provide you with free foot traffic?
RK: It's true that just being that close can be an advantage but it doesn't automatically mean people will take those few extra steps … unless they have an interest or are aware you exist.
WOL: How do you turn would-be shoppers into customers?
RK: We don't have any formal procedures but we are fairly sure we know what works for us.
1) Creating a nice retail experience is very important. We realize that shopping for many people is a chore. So make it easy and enjoyable. Having friendly staff who know all about our products/specials and are helpful is of fundamental importance. And we do have great staff.
2) Having a café within the main shopping area helps create a nice ambience even if you don't grab a coffee while you're in the store.
3) Getting the message out. We use all media from time to time. TV, radio, newspapers, websites and social media. We are not tied to any particular media and our focus on cost control means that we are always on the lookout for economic ways to let the wider public know all about us.
WOL: I guess you could say that's why you are the leaders in a very mature market … by a country mile. Sorry about that – couldn't resist it.
Ross and Dimo go to market


EDITOR, Andrew M Connery: A pioneer in social media and active online since early 2001 heads up the Editorial team. Andrew is currently undertaking doctoral research at the School of Computer Science and Software Engineering at the University of Wollongong. A B2B marketing practitioner by profession his specialty area is local search and until July 2011 he was a Senior Trainer for the Federal Government's Small Business Online program. His latest project is a joint venture with Barnetts Couriers to introduce 24/7 smart lockers for online purchases.
Comments
Powered by Facebook Comments





by