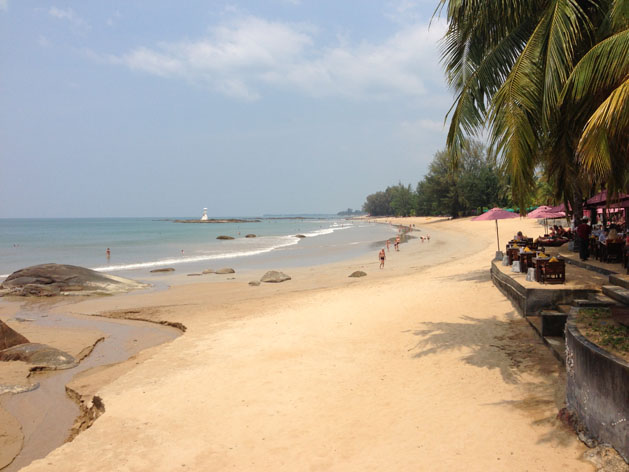 TRANQUILITY WHERE ONCE WAS TERROR
EIGHT years on, the physical scars of the devastating 2004 tsunami are blissfully few.
The natural disaster which killed thousands as it rolled over everything, and everyone, in its path remains etched in the memories of survivors but just talking about personal grief and loss has become easier for many.
The Khao Lak region, a stretch of idyllic beaches spread along about 30 kilometres of Thailand's Andaman Sea coast, was one of the hardest hit by the 2004 Christmas-tide catastrophe, effectively putting the brake on one of Thailand's fastest growing tourism areas.
It has been re-born, undergoing a metamorphosis from its old life as a backpacker haven to a sophisticated, if still laid-back, holiday destination adding families and seniors to its clientele profile.
Local tourism leaders are quick to "reassure" you 10-metre waves like those could never again take Khao Lak by surprise. Early warning systems, which have actually had a successful work-out in a couple of false alarms since installations, will see to that.
Many Thais and foreign visitors alike question the sanity of a decision to rebuild right to the water's edge.
But consider Khao Lak's almost exclusive dependency on tourism – there's a bit of commercial fishing and agriculture as well – and you understand they had no option other than, of course, to shut up shop and move away. Trademark Thai resilience never permitted the latter.
Unlike near(ish) neighbour, big, brash, bustling Phuket, Khao Lak's strength was its contrasting seclusion, a family-friendly environment, night and day, uncrowded beaches and quaint local ordinances restricting high-rise development. It retains its status as a popular launch pad for diving trips out to the Similan islands.
Post-tsunami Khao Lak is also emerging as a template for welcome innovations like banning noisy, intrusive and sometimes downright dangerous jetskis. (You suddenly realise they are the "something missing" as you dine leisurely al fresco by the lapping waves in havens like the Khao Lak Laguna Resort!)
In typical Thai fashion, new prospective tourism entrepreneurs and resort investors are "advised" by community leaders on what the "new" Khao Lak expects. "For the most part, they get the message it is either our way or no way," Laguna Resort owners told me.
Success is measured in distinctly changed holiday patterns of the area's considerable Australian and European repeat customers who are staying longer than before and mostly eschewing the lure of Phuket's bright lights and "you name it, we've got it" reputation.
Resorts have all lifted their game, post tsunami. Fine dining, particularly traditional Thai, abounds, as do staples like massage and exercise facilities.
Khao Lak, fairly, is slightly off the beaten track but being a little bit out of the way is its strongpoint.
It lies some 60km north of Phuket Island and is accessed by a major highway. Phuket International Airport adds about another 15km to the trip. There are public buses for the more adventurous but your chosen resort or tourism operator can arrange private and more comfortable transfers. (Just make sure everything is arranged in advance rather than chance the bunfight scramble at the airport.)
It is also sound advice to talk to the Tourism Authority of Thailand's Sydney office who can advise on steering the fine-tuning process of your holiday. Call them on 9247 7549.
ILLAWARRA TRAVEL INDUSTRY WAKE-UP CALL
Warning bells have been sounded on Australia's relevance as a top tourist destination over the next 20 years.
Challenges range from wooing and winning a greater share of the growing market of female business travellers to easing visa requirements and increasing focus on the special needs and expectations of visitors from rapidly expanding visitor numbers from China and India.
The "call to arms" comes in the form of a most thorough study and report by respected global travel industry technology partner Amadeus IT Pacific with an overview by managing director Tony Carter.
The report has input from the travel industry, industry associations and travellers. It has particular relevance in the high-traffic area of the Illawarra.
It notes increasing fragmentation of the travel market into niches – visiting friends and relatives (VFR); the independent traveller; seniors travel; small-business traveller; and female business travellers.
VFR is the main reason for travel by 20 per cent of traffic in this region, particularly among Indians who currently represent the largest source of permanent migrants here. They travel for longer periods and shun hotels to lodge with friends or family.
The report cited Asia Pacific economic integration and liberalisation of trade restrictions led to Asia becoming increasingly important to Australia. "But restrictive visa policies remain a major impediment with visitors from countries like India, China and Indonesia needing to apply for a visa before travel – a main impediment to business travel".
The independent traveller, managing travel research and tailoring bookings "will drive travel agents to offer a broader range of services".
The report states self-managed travel will grow particularly in China, Korea and Japan with an increased number of solo visitors from Japan.
Senior travellers, over 65, travelling to the Asia-Pacific will double by 2030, again. This group, however, relies more on traditional services like travel agents, than "mobile devices" with the exception of China where 30 per cent in the age group book via smartphones.
Small-business travellers, generally on a budget and without support infrastructure, will be attractive to providers with products at the lower end such as low-cost business centres at airports or hotels.
One of the most dramatic findings is that female business travellers will increase 400 per cent by 2030 from 4.5 million trips in 2011, as more women attain management positions were travel is required.
The report suggests travel providers can adapt to the individual needs of this sector, not only with services like women-only floors in hotels and female-friendly restaurants but by reviewing how they reach and communicate with women who tend to heed peer recommendation and advice when making travel decisions.
The following are some highlights of the report:
* "Amazonification of the world means suppliers must customise to meet the needs of specific individuals" – Puneet Mahindroo, ex Taj Hotels, Resorts and Palaces
* "Seniors impose greater costs on service providers but charging extra for this is problematic, hence, with seniors a greater portion of the customer mix, ways need to be found to recoup these costs" – Mr Okada, EVP Alliances and International Affairs, All Nippon Airways
* "While the women's market is a huge and growing one, the travel industry remains male dominated and does not yet understand the psyche of the woman traveller. Women make most travel decisions anyway – likely to be based on social media e.g. reviews. Social media will become increasingly important for travel" – Siew Hoon, Web-in-Travel
* "We see continued survival and role of retail presence for travel agents. While other channels remain important there will be continuing need for a retail presence" – Jayson Westbury, Australian Federation of Travel Agents
* "Travellers want more convenience. Visa processes – get rid of the red tape" – David Brett, President, Amadeus Asia Pacific
* "Australia is in the box seat to be an important part of the China success story" – Jayson Westbury


FEATURED CONTRIBUTOR, John Blair: John is an award-winning, world-travelled newspaper and magazine journalist who has worked in Europe and Asia as well as many years compiling and editing mass circulation travel pages here.
As a professional traveler on all continents, particularly familiar with Australians' favourite destinations, likes and dislikes, his column provides a definitive, warts and all guide for prospective tourists and adventurers of all ages.
Comments
Powered by Facebook Comments





by