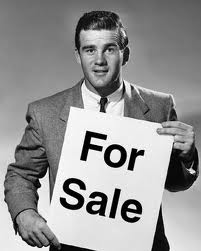 Let's get real. Successfully selling goods and services to businesses (B2B) rather than to consumers (B2C) has always been a challenge; I should know I have been involved with this particular area on a daily basis, at various levels, for over thirty years.
No matter whether you are at the coalface, meeting with customers yourself, or at a senior corporate level in charge of a national sales force (both roles I have played personally), it remains the ultimate test of selling skills and business acumen in an ever-evolving and increasingly-competitive globalised marketplace.
Choosing the ideal B2B sales person
For starters, let's look at some hoary old truths and untruths about choosing the ideal B2B sales person to represent your company.
Firstly, most busy business managers will still make the time to see a pretty young sales lady even if she comes to the workplace unannounced. It's true, (it's a male ego thing), and it can be a real advantage … but only if the rep can handle themselves, and really knows what they are talking about.
Secondly, senior women managers won't buy off young (read more attractive) sales women on principle. Haven't got any data on this, and I don't know exactly what principle is involved, but I have a strong suspicion it is true. Just as well there aren't many of them (joking).
Thirdly, young, energetic and presentable young males are the best choice, particularly for industrial markets. Depends, but there are more to choose from … which helps. And if motivated they will work strange hours when required … which can also be very handy.
Fourthly, technical knowledge often trumps sales skills. Most business managers insist on dealing with people who are experts in their field. A lack of social/selling skills will often be overlooked if the company representative is clearly very knowledgeable about the product or service being offered.
Fifthly, the principal of a company is usually the best sales person (forget the age or gender). Dead right and don't you forget it. The legendary advertising guru David Ogilvy still considered his primary role was as chief salesman and 'rain-maker' for his global firm right up until his mid-sixties when he was also CEO and managing the day-to-day activities of an agency turning over tens of millions of (real) dollars each year.
Finally, if the boss won't or can't do it, make sure whoever you select gets the necessary sales collateral and receives the whole-hearted support from top management. They can usually handle all the inter-departmental turf wars and egos if they know the boss is definitely on their side, i.e. making profitable sales for the company. And, remember they're never too old to receive a regular brush-up on their sales techniques – they might even welcome some training.
Of course, positive encouragement from time to time also goes a long way for what is often perceived by many in the senior management team as a thankless task best delegated to others.
B2B marketing … do you really need it?
Face-to-face selling is usually seen as the 'Rolls Royce' approach, but like the car it does come attached with an expensive price tag. Of course, some of the selling and prospecting costs can be defrayed by using out-bound telemarketing to generate the leads freeing up the more expensive sales people to concentrate purely on making presentations.
Care has to be taken when organising calls to ensure the reps are not criss-crossing their territories, running up mileage and severely curtailing the number of presentations that can actually be delivered in business hours. I know from personal experience it is difficult to consistently make more than three calls a day in a large territory such as Western Sydney.
In the past, traditional mass media, such as TV, radio and newspapers have rarely been viewed as economic due to the wastage factor involved, and small businesses wishing to increase revenue have usually had to rely on trade magazines or e-newsletters. These types of publications are very targeted (often linked to industry peak bodies) and usually have national coverage.
This approach can be very effective for some types of goods and services, however when smaller businesses are trying to target other small businesses in their own locality, which is often the case, this strategy can fall down.
Feedback
Let me know about any other B2B selling issues or problems you may have experienced … and I'll try and answer them for you next issue.

Andrew M Connery: A B2B marketing practitioner by profession and former Vice-President of the Australian Marketing Institute (AMI) his specialty area is local online search. Until July 2011 he was a Senior Trainer for the Federal Government's Small Business Online program. Andrew's latest project is a joint venture with Barnetts Couriers to introduce 24/7 smart lockers for online purchases.
Comments
Powered by Facebook Comments





by