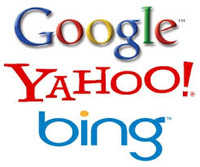 Why do business owners persist in trying to optimize their websites (with SEO) when it's a lot easier to simply pay Google for AdWords (SEM) that will put them on top of Page 1 from Day 1?
It's pretty straight forward really. With SEO (and I'm talking about utilizing Google approved or 'white hat' techniques here) a website can greatly improve the position of its organic or natural listings over time.
And this improved positioning can be viewed like 'goodwill' since when potential customers search online for related products or services they are much more likely to click on a business with a prominent Page 1 Google SERP listing than one out of sight, below the fold, on Page 2 … or even later.
Google ranks all webpages from PR0 to PR10 where PRO is a brand new site and PR10 is the highest you can get – Google awarded itself this, and other important websites such as Wikipedia have a PR9 ranking. Most of the top Australian websites such as the SMH and Yellow Pages are PR8.
Taking a new website with a Page Rank of PR0 to say PR4 with SEO can be an on-going fulltime 12-18 month exercise and budgets anywhere from $2-10,000 per month are not uncommon in the Sydney area for this type of work.
Achieving a PR4 may be the minimum to make Page 1 for key search phrases in many of the more competitive industries.
As a rule of thumb, increasing a PR3 website to PR4 will involve adding about six times the number of backlinks which in PR1 equivalent terms would be about 1,000 extras … no small task.
The website of one of the Google AdWords (SEM) campaigns I manage (a Sydney-based distributor in the fashion industry with a PR3 website) faces a number of SEO challenges which they acknowledge are not capable of being surmounted in the short-to-medium term.
The main issue they face is organic listings dominated by their overseas-based supplier, local and international comparison websites, Australian verticals (sector specific directories) and fashion magazines – most of these competing websites have relatively high page ranks (PR4+).
What's more, most of their competitors' AdWords use my client's trademarks in both the headlines and text and make it virtually impossible to tell the difference between a genuine re-seller (them) and a comparison website. Steps are underway to lodge a complaint with Google.
Google often also places its Google Store at the top of the right-hand side of the SERP (Search Engine Results Page) with 1-8 images that obviously are much more impactful than the standard text only AdWords.
See one sample below complete with price!


Gorgeous Italian …
$555.56
eBay.com.au
Industry blogs and forums maintain Google is always tweaking its famous algorithm so theoretically what works SEO-wise now can become irrelevant overnight, although it must be said that this scenario is virtually unheard of for quality websites some allegedly 'black hat' websites have reportedly disappeared spectacularly.
Of course, the major downside for SEO in most instances is it's a long term on-going proposal and one that usually is very difficult, if not impossible, to justify in the short term and that is why the ultimate SEO versus SEM decision must been viewed as a strategic one.

However, obtaining effective results with SEM is also not assured. Obviously attracting traffic is fairly straight forward, assuming you have the budget, however as a means of securing cost effective sales there are many pitfalls to avoid and techniques to master. Most companies contemplating SEM hire external consultants to manage their AdWords campaigns – at least initially.
Next issue: Getting the most out of your AdWords campaigns.


EDITOR – Andrew M Connery: A pioneer in social media and active online since early 2001 heads up the Editorial team. Andrew is currently undertaking doctoral research at the School of Computer Science and Software Engineering at the University of Wollongong. A B2B marketing practitioner by profession his specialty area is local search and until July 2011 he was a Senior Trainer for the Federal Government's Small Business Online program.

Comments
Powered by Facebook Comments





by