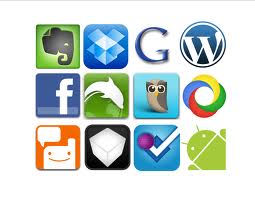 Apps enable businesses to engage directly with their customers and to build brand loyalty.
This column is the first in a 4-part series and includes a simple test for readers to check if their business is app-ready.
An increasing number of small-to-medium sized businesses (SMEs) are becoming acutely aware of the need to grow their online presence. Many have taken the plunge and have their own personalised dot com web pages or blogs and a handfull have already integrated social networks into their online portfolio with Google Plus, Facebook pages or Twitter accounts.
Already we are not only seeing that the 'revolutionaries' are benefiting with increased market share and customer loyalty but also that those who have erred on the side of cautiousness are being left in catch-up mode.
In this issue we examine the pros, the cons and explore the best way for SMEs to approach this technology and move forward. In future articles we will take a walk through the technology behind web apps, IOS apps and Android apps.
By the end of this four-part series we will have shown you how to create the different types of app and the development phases and costs associated with each. And we'll aim to provide sufficient information on the processes so readers have enough knowledge to make the best app choice for their needs.


The real back story about 'apps'.
On 9 January 2007, like many others at the time, I tuned into the Macworld Conference & Expo, where a decade after returning to Apple (announced at the same conference in 1997) Steve Jobs first presented the iPhone to the world.
Interestingly, at the time, Apple did not actually promote the idea of apps. In fact, at the meeting many Apple developers were severely saddened to hear Steve explain to the world that apps would be limited to HTML web shortcuts that could be bookmarked on the iPhone home screen.
It wasn't until 2008 that the Apple App Store was opened. Since then over 25 billion apps have been downloaded, and over 700,000 apps fill the App Store's virtual walls.
Google and their Android OS had a much less dramatic start, also in 2007. Android remained under the radar for most users until 2009 when a major revision to their operating system brought extended reliability and their 10% market share steadily rose to 50% by early 2011.
In 2008, Google opened the Android Market, which was renamed the Google Play Store in early 2012. Currently, just like Apple, the Play Store boosts 700,000 apps and 25 billion downloads.
In terms of software market penetration Apple very quickly became the market leader with the release of the iPhone. At the time, IOS (the iPhone operating system) was highly polished compared to the former leader Symbian and the previous versions of Windows Mobile; however, over the last few years Google has made plenty of headway.
Worldwide mobile device sales to end-users by operating systems in Q3 2012 figures show that Google's Android operating system enjoyed 72.3% of purchases in the period and IOS mustered only 13.9% of purchases over the period.
In Australia, Marketing Mag has released usage trends that show 59% of Australians now have smart-phones. Of the tech savvy majority, Android has claimed the title of most used OS with 38% of Australian users, followed closely by Apple's IOS (37%). These trends seem to indicate that in the grand scheme of things it is no longer wise to simply cater to iPhone users. Further, these trends strongly suggest that Android apps will become the most popular amongst users in the coming years.
The concept of apps has always been to provide some level of functionality beyond the use of a website for smart phones and smart devices (increasingly apps now cater to mobile and tablet versions). Typically, this includes the use of graphics processing and sound mixing required for most recent games, but also includes connecting device hardware, such as the camera or GPS of a device to some functionality.
When first introduced apps were simple in nature. At one time an app that turned a device's screen white was marketed and sold for 99c per download on the App Store as a flashlight for the iPhone. Games and immersive tools have also been massive sellers; with Angry Birds earning its developer $106 million in revenue for 2011.
It seems now though, that 2013 is to be the year of the SME app. While attending a number of conventions during 2012 at the Sydney exhibition centre, small app development companies were engaged in hard sell tactics to assure business that branded apps were the future.
Although personally I am yet to be convinced of the need for ALL businesses to have their own app, I do agree there are some segments that are obviously going to benefit from an app presence.
The challenge for me in this area is based on the impression that customers generally will not consume app content without an incentive or without an individual use case. As such, for any decision maker, it is very important that a clear business model and customer user case exists for your app.
Ask yourself: Are you looking to provide purchasing services for VIP customers? Or are you looking to offer discount barcodes or price checking tools for customers? Or are you providing booking applications or service checking tools?
All too frequently I see 'apps' for businesses that are simply 'app-ified' websites. This is a problem for a business as usually these types of apps require regular maintenance and do not provide any real added functionality.
In instances where simple web functionality is obvious customers will promptly erase your app to make room for other more useful apps. Generally these app-ified websites are expensive to produce. It is possible to outsource development of this type of app to overseas software sweatshops; but you run the risk of upsetting your customers with mistranslations or buggy software and generally will lock yourself into non-standard technology, meaning that any future upgrades will be a costly endeavour (generally you will need to start from scratch).
To assist you to evaluate your business need for an app I've created a form questionnaire that will help calculate how ready your business is for an app.
Try our simple APTITUDE app-ready test below:
1) Which is your primary way to engage with your customers?
a. None (No points)
b. Use online directories, e.g. TrueLocal? (2 points)
c. Use social media, e.g. Facebook (3 points)
d. Use webpage (5 points)
e. Use apps (10 points)
2) How many of your customers currently engage with you over the internet?
a. 0-15% (2 points)
b. 16-30% (5 points)
c. 31-60% (8 points)
d. 100% (10 points)
3) What level of IT system automation do you have?
a. Record all transactions on computer
(in spreadsheet) (2 points)
b. Have inventory management software
(spreadsheet) (4 points)
c. Have inventory/customer management software
(database) (6 points)
d. Have automation software that manages all levels
of customer engagement (10 points)
4) Within your industry sector, how adaptable is your supply chain?
a. No supply chain (No points)
b. Difficult to expand or modify schedules (2 points)
c. It is possible to make changes over a 6 – 8 month period (5 points)
d. I am in complete control of my supply chain and can change quickly (10 points)
5) How much do you believe in marketing?
a. I don't need marketing (1 point)
b. My marketing budget is spent on signs and business cards (4 points)
c. I dabble in new campaigns once every few years (6 points)
d. I need marketing (10 points)
NOW add your points together and compare the result to the table below for Points App Readiness:
Less than 10 There are other aspects of your business that require your attention. An app currently will not help your business.
Between 11-15 Your business is beginning to emerge technically. You should try to grow either your IT systems or web presence before attempting to enter the app market.
Between 16-25 You are in app territory. You should begin to examine your market segment to find out what your competitors are doing. Check if there is an industry app that you can use (like AirBnB or Wotif)
Between 26-35 If you do not have an app, then you need to start budgeting now. Consider your industry segment when making your decision. If you are a B2B provider, improving your existing web app will produce as many benefits as a phone app.
Between 36–50 Chances are you already have an app. It may be a good time to re-evaluate the business use case that your app is addressing. You most likely already compare yourself regularly to your competitors; however, you most likely are the industry leader in your area and will need constant evolution of your services to stay in front.


CONTRIBUTOR, EVAN MORRISON: A graduate student at the UOW's School of Computer Science and Software Engineering Evan is passionate about computers and the internet. As a tinkerer and tester he has helped develop a series of open source and community software tools but still finds time to provide IT support to several of Wollongong's leading institutions. His doctoral research on Business Service Management and Requirements Engineering is funded by the Queensland Government, Suncorp and Infosys.

Comments
Powered by Facebook Comments





by